All Fiona Grant Boxed Sets / Collections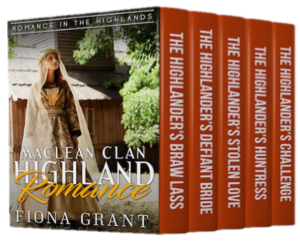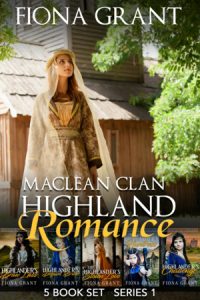 MACLEAN CLAN HIGHLAND ROMANCE (5 Book Set: All Books in Series 1)
Five stories of deep and abiding love that see our Scottish Highlanders and their feisty women fighting for a happy ending.
The 5 Books in the Maclean Clan series:
Book 1: The Highlander's Braw Lass
"That wildcat in the Chisholm clan," is the way most people describe Mairi Chisholm. Her mother despairs of her, and her father, tired of her rejection of one suitable match after another, finally presents her with an ultimatum: Marry Alastair Maclean or spend the rest of her life in the priory.
Book 2: The Highlander's Defiant Bride
Rhona Maclean dreams of being swept off her feet by a highlands hero: a man who is handsome, strong, and brave and loves her more than life itself. Those dreams collapse into ashes when she is stolen from her home one dark night and delivered into the hands of a Calum Stewart, a vengeful warrior from a rival clan.
Book 3: The Highlander's Stolen Love
When Caitriona's parents tell her that Duncan, her first and only love, has been so badly injured in battle that he cannot be a husband to any woman, she resigns herself to marriage with a cruel Laird, Cormag MacPherson. Duncan, still recovering from his war injuries, is stunned to discover that Caitriona needs him desperately. Fighting against almost insurmountable odds, Duncan sets out to rescue his stolen love.
Book 4: The Highlander's Huntress
Finlay MacGregor's friend Malcolm Campbell challenges him to a wager – and when Finlay loses, he finds that his task is to escort Malcolm's headstrong sister, Isla, on one last hunting trip before she has to face the distasteful task of choosing a suitor. All does not go as planned – and after an accident, Finlay is forced to recuperate in the Campbell keep, with Isla as his unwilling nurse. Although both feel the flames of attraction, neither wants to give up their treasured independence…
Book 5: The Highlander's Challenge
Hamish Maclean has overcome many challenges in his life, but none so difficult as the one that faces him now: how to win the trust of a woman who has borne too much mistreatment in her life. Jessie Gunn trusts no man — and has good reasons for feeling that way. She feels safe at last in the service of her beloved mistress Caitriona, protected in the Maclean keep. She has no plans to give herself in marriage… until disaster strikes and war between clans threatens if she does not.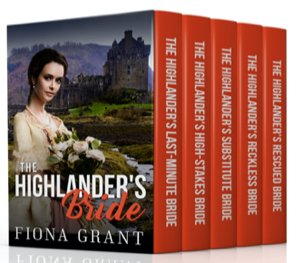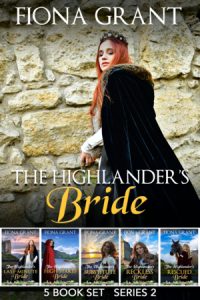 THE HIGHLANDER'S BRIDE

(5 Book Set: All Books in Series 2)
Book 1 The Highlander's Last-Minute Bride
Jane MacKay has little choice: if she does not agree to wed lecherous old Laird Sutherland, her terrified younger sister Heather will be handed over to him in her stead.
Jane cannot allow that to happen. With a heavy heart, she leaves behind her home (and her dreams) and journeys to the Sutherland Keep to marry a man whose infamy has spread far and wide — a man who has already buried two wives.
Book 2 The Highlander's High-Stakes Bride
Gareth and Brodie Hay have a not-so-shiny reputation in the highlands. Brothers born just a twelvemonth apart, they are famous for their carousing in the local tavern: sampling the ale, teasing the wenches, and remaining unbeaten in games of chance. But all good things must come to an end…. When their mother Anna Hay becomes seriously ill, their father insists that one of them must take a wife to help run the keep and tend to his precious Anna. They decide to let a throw of the dice determine who will be the unfortunate groom.
But then, the lass who is chosen soon lets them know she is not one to meekly accept the role of a passive highlands wife and leads her new husband a merry dance!
Book 3 The Highlander's Substitute Bride
Crissa MacLeod thinks she may never recover from losing both her husband and her darling child and spends her days quietly in the Maclean Keep — until one day her identical twin, Owena, comes to her begging for help. Owena has fallen in love with a dashing young man who does mysterious work for the King. To her dismay, Owena's father has arranged her betrothal to Kenrik Maclean.
Owena exerts all her wiles to persuade Crissa to take her place. Still grieving, Crissa decides that she really does not care what happens to her… so why not let her twin have a chance at happiness?
The twins swap names and places, knowing they will have to live a lie for the rest of their lives. And surely, Kenrik Maclean will never know the difference…?
Book 4 The Highlander's Reckless Bride
Owena Macleod has fallen hopelessly in love with a brave and dashing King's spy — so when her father arranges her betrothal to Laird Kenrik Maclean, she comes up with a devious plan: her widowed identical twin, Crissa, should take her place in the nuptials.
Owena adopts her sister's identity and slips away to marry her spy, breathlessly anticipating a life of adventure. Barely two months into her marriage, she realizes that her husband is not the man she thought. In a whole lot of trouble, and unable to return home, she is forced to trust the hard-eyed stranger who has been following them…
Book 5 The Highlander's Rescued Bride
When Anice Gordon's father announces that she and Robert O'Gilvey will be betrothed, neither Anice or Robert are ecstatic about the prospect.
Robert, especially, finds it hard to hide his dismay. His best friend's sister?  That tearaway lass with a bawdy sense of humor and stick-straight tangled straw hair?
How can he possibly contemplate taking her as his wife and Lady of the Keep?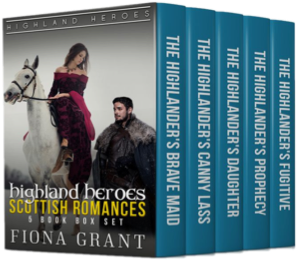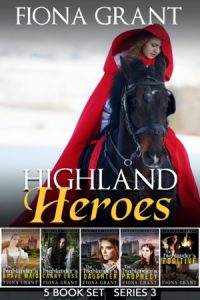 HIGHLAND HEROES

(5 Book Set: All Books in Series 3)
Enjoy the whole series in one value-packed, exciting boxed set!
Book 1: THE HIGHLANDER'S BRAVE MAID
Gavin Hay is devastated when he learns that his parents, who have spent their lives in dangerous service to the King, have disappeared while on a mission. He sets off to find them, not knowing whether he'll be rescuing or bringing him their bodies — with his fey sister Isobel's whispered parting words echoing in his brain: "Gavin, you must trust only a lass who is marked in scarlet, with hair like a lad…"
Book 2: THE HIGHLANDER'S CANNY LASS
Mairead Hay is excited when her parents break the news that it is, at last, time to put her training as a spy into practice. She is not so sure about her assigned partner, Tam Mackenzie, a young man there to learn from her experienced father.
Her father had brought home many such young men before, men who had dreams of being a hero and ears too proud to listen to a lass. She just wants to do her job!
Book 3: THE HIGHLANDER'S DAUGHTER
Anne Maclean is a highlander's daughter: born of a proud clan — and, like her aunt and uncle, a brave and loyal spy for the King of Scotland.
The Maclean clan has many enemies, but none so vicious and determined to kill them all as Col Pearce, a King's soldier who saw his career collapse because of ill health after being wounded by Mairead Hay, Anne's cousin. Col has vowed revenge and rejoices when he gets his chance to kill Anne's partner Hew and take her captive.
But Col is also being hunted… by a man who may be Anne's only hope.
Book 4: THE HIGHLANDER'S PROPHECY
Isobel Hay, the daughter of Scottish spies, prepares at last to embrace her destiny: a liaison with a dispossessed Laird, raised in secrecy by loyal servants.
Isobel is the youngest daughter of Owena and Rory Hay, an unconventional couple that have been loyal spies for the King of Scotland all their lives. Despite their experience, they find they are ill-prepared when Isobel is drawn into clan warfare surrounding the man she has always "known" she will marry — the rightful Laird Fergus Mackenzie.
Book 5: THE HIGHLANDER'S FUGITIVE
When a mother and newborn die under her care, Sorcha McLeod is forced to flee with her childhood friend, Dermid Mackenzie, who rescues her from a frenzied mob of torch-bearing villagers. Falsely accused of being a witch, and betrayed by villagers whose lives she had saved, Sorcha has no choice but to run for her life…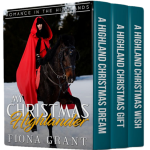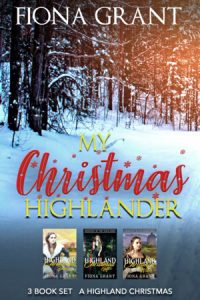 MY CHRISTMAS HIGHLANDER (Christmas Series: 3 books)
There's something very special about Christmas in the Highlands – especially when three firm friends seek true love for Christmas!
These three stories by Fiona Grant tell the stories of Bridget, Myra and Eimhir.
A Highland Christmas Dream
BRIDGET is a dreamer who hopes against hope that the man she imagines riding to her across the moors will, one day, really appear.
A Highland Christmas Gift
MYRA is shy and more interested in reading scrolls and forming letters than finding a suitor — until a family tragedy brings someone unexpected into her life.
A Highland Christmas Wish
EIMHIR dreams of being wild and free, and rails against fate that made her a female who is fated to a marriage arranged by her father. Then, on her last afternoon of freedom, she meets a man who wants her just as she is… but is it all too late?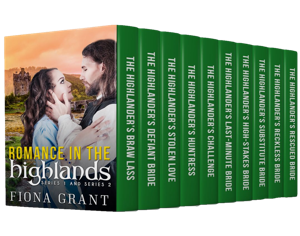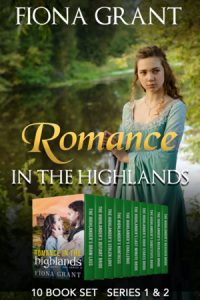 ROMANCE IN THE HIGHLANDS (10-BOOK BOXED SET, SERIES 1 AND 2)
Enjoy 10 fast-paced, engrossing stories about Highlanders and their brides: Series 1 (Maclean Clan Romances) and Series 2 (Brides of the Highlands) in one value-packed box!
Series 1: MACLEAN CLAN HIGHLAND ROMANCES
Book 1: The Highlander's Braw Lass
Book 2: The Highlander's Defiant Bride 
Book 3: The Highlander's Stolen Love
Book 4: The Highlander's Huntress
Book 5: The Highlander's Challenge
SERIES TWO: THE HIGHLANDER'S BRIDE
Book 1 The Highlander's Last-Minute Bride
Book 2 The Highlander's High-Stakes Bride
Book 3 The Highlander's Substitute Bride
Book 4 The Highlander's Reckless Bride
Book 5 The Highlander's Rescued Bride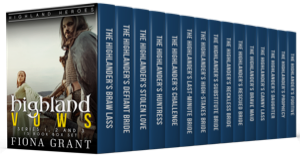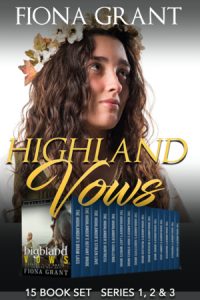 HIGHLAND VOWS (15-BOOK BOXED SET, SERIES 1, 2 AND 3)
Sigh with delight at this 15 tension-packed, fast-moving stories about Highlanders and their brides: Series 1 (Maclean Clan Romances); Series 2 (Brides of the Highlands), and Series 3 (Highland Heroes) in one curl-up-and-binge set!
Series 1: MACLEAN CLAN HIGHLAND ROMANCES
Book 1: The Highlander's Braw Lass
Book 2: The Highlander's Defiant Bride 
Book 3: The Highlander's Stolen Love
Book 4: The Highlander's Huntress
Book 5: The Highlander's Challenge
SERIES TWO: THE HIGHLANDER'S BRIDE
Book 1 The Highlander's Last-Minute Bride
Book 2 The Highlander's High-Stakes Bride
Book 3 The Highlander's Substitute Bride
Book 4 The Highlander's Reckless Bride
Book 5 The Highlander's Rescued Bride
SERIES THREE: HIGHLAND HEROES
1: The Highlander's Brave Maid
2: The Highlander's Canny Lass
3: The Highlander's Daughter
4: The Highlander's Prophecy
5: The Highlander's Fugitive